Executive director for international partnerships and study abroad
---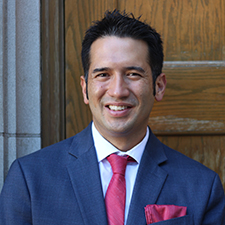 Miguel Ayllon, Ph.D., was named executive director for international partnerships and study abroad in March 2022. Dr. Ayllon has served as director of study abroad since January 2018. In addition to leading the study abroad team, Dr. Ayllon manages relationships with international partner universities and advises the vice provost for International Programs on relationship priorities. He plays an active role in international agreement management by supporting academic units in drafting new agreements, reviewing agreement proposals and renewals, and assisting in organizing delegation visits.
A native of Lima, Peru, Dr. Ayllon came to the United States in 1999 as an international student. He joined the University of Missouri in 2008 as a residence hall coordinator, and has been in university roles with increasing leadership and responsibilities since then. Dr. Ayllon formerly served as director of international engineering and STEM programs, a position shared by the College of Engineering and International Center. During his tenure, the college recorded record study abroad enrollment and its first academic collaborations with Latin America were developed.
Dr. Ayllon's priority is to offer affordable global experiential learning opportunities to Mizzou students.