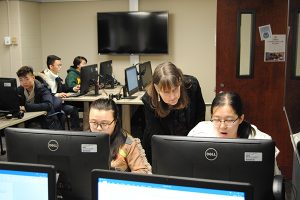 Computer Lab rules
The CELL Computer Lab is a beautiful lab with 16 computer stations available for IEP students. Please help keep it clean and organized by following these basic rules.
Don't bring food or drinks into the lab.
Communicate with others only in English.
Log off computer before leaving.
Put headphones next to the computer when finished using them.
Push in chair and clean up any garbage around the computer.
CELL Computer Lab orientation
Printing
IEP students receive $17.50 at the beginning of the fall and spring semesters and $7 for the summer semester for printing costs. Student can print in the CELL Computer Lab or any other lab on campus.
Black and white printouts cost $0.05 per page.
Students can check their account balances online.
Connecting to wireless internet
Choose TigerWiFi.
Enter MU username and password.
Accept certificate.
Microsoft Office 365 ProPlus
All enrolled students are eligible for a free copy of Microsoft Office 365 ProPlus, which includes Word, Excel, PowerPoint, OneNote and Outlook. This should only be downloaded on personal computers — do not download it to the CELL Computer Lab computers. Students can download this free copy of Mircosoft Office only while they are students at MU.
To download:
Log in to MU student email.
Go to "settings" > "Office 365 settings" > "Software"
Saving files to CELL Computer Lab computers
Every time students log off the computers in the lab, all work will be deleted. To save their documents and files, students should do one of the following things.
Save files on a USB flash drive.
Email files to themselves as attachments.
Save files in OneDrive, a free, cloud-based storage system available to all MU students. For more information about OneDrive cloud storage, see the Division of IT website.
Setting up student email on mobile devices
For Android devices
For iOS devices
Technology support
Students who need technology support for a laptop, tablet or phone can use the TigerTech service desk, located in the lower level of The Mizzou Store.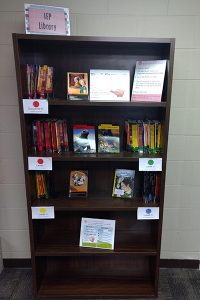 CELL Library
The IEP has a library of graded readers in the computer lab. Graded readers are special books that fit a student's level of English. IEP students are encouraged to check out books from the library often in order to have fun reading and improve their vocabulary knowledge, grammar knowledge, and reading and listening skills (some books include CDs). You can browse the collection of books online or learn more in this online presentation.