What is the weather like in Columbia?
Columbia, (and most of the Midwest) has four distinct seasons, but please be advised that the weather fluctuates frequently and quickly in Missouri, unlike your home countries where the weather may change more gradually. It is not uncommon for the temperature to change 20 degrees Fahrenheit within a 24-hour period. There is a saying in Missouri: "If you don't like the weather today, just wait until tomorrow!" You can a find information about average temperatures and precipitation on the U.S. Climate Data website.
What should I bring with me?
Your English
Our expectation is this: We sincerely expect you to speak only English while you are here, even from the moment you arrive. Why? Because it is best for you as a student of English. We have seen that the students who choose to speak English at all times are the students who improve the most. Additionally, if you speak to each other in your native language in front of people who don't understand you, it can be considered rude and can make people feel extremely excluded. Remember, some of the other program participants, instructors, Asian Affairs Center staff and American ambassadors cannot speak the same languages you can.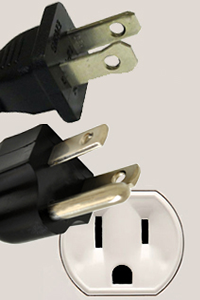 Laptop computer and adapter/converter
You will have access to the computer labs at MU. Laptops can be used if you bring the proper adapters/converters, but we cannot provide adapters for you. There is wireless internet access across campus. If you choose to bring an adapter/converter for use with any of your equipment, do your research and purchase the correct adapter/converter prior to your arrival in the United States. The U.S. uses Type A (ungrounded/two-prong) and Type B (grounded/three prong) plugs, and either can be plugged into a grounded/earthed outlet. The voltage is usually 120 V. Learn more on the World Standards website.
Other items
If you have favorite medications that you like to use for various ailments, including the common cold and flu, we recommend you bring them with you. You will have health insurance in the U.S., but American health care costs are high. You will be responsible for certain deductibles and payments when receiving health services. Additional items we suggest you bring include:
Proof of COVID-19 vaccination, if you have one
Laptop
Towels (bath and hand towels, can be purchased upon arrival)
Personal toiletries you may not be able to find in the U.S.
Extra contacts and/or eyeglasses (eyeglasses are very expensive in the U.S.)
Prescription medications and over-the-counter medications that you prefer for minor issues (headaches, stomach upset, etc.)
USB storage devices
Exercise clothing (You will have access to the student recreation center — Mizzou Rec — which most students love and visit frequently.)
Tennis shoes/sneakers and comfortable shoes for walking
Swimsuit (Mizzou Rec has excellent pool facilities, and you must have appropriate swimwear to use the pools. Note that men in the U.S. do not typically wear brief-style/Speedo swimsuits — swim shorts are much more common. It can be difficult to find swimsuits in Columbia, especially women's one-piece suits.)
Indoor slippers (can be purchased upon arrival)
Business casual clothing for your internship and graduation presentation day (see this article for more details)
What kind of clothing is appropriate?
You do not have to dress up for classes, but you should look nice. Occasionally, it will be necessary for you to dress in business casual attire — this means no jeans, casual T-shirts or sneakers. Therefore, you should have some clothes that are appropriate for a professional environment, such as khaki pants, nice slacks or a modest skirt (not too short). It is completely acceptable for women to wear pants, and especially when it is cold, slacks or pants may be more comfortable. You should also bring comfortable shoes for walking as well as nicer shoes for professional environments. It is a good idea to bring at least one formal outfit. You will need this formal wear occasionally for formal events like interviews or your program graduation.
What should I know about travel to the U.S.?
Remember that you must bring all of your original visa documents with you when you come to the United States. This includes your signed DS-2019 and, of course, your passport. It is imperative that you not lose any of the official documents you obtain upon entry to the United States. This can cause you to be detained or possible denied entry into the U.S., and we don't want this to be an issue for anyone.
Should I open a bank account in the U.S.?
Some students have chosen to open bank accounts in the United States, and there are several banks within walking distance of campus for you to choose from. If you do not wish to open an account in the U.S., there are many ATMs on campus and around Columbia you can use to withdraw money from your bank account back home, but you may have to pay a withdrawal fee. Check with your bank at home to find out the best option for accessing your money in the United States. We recommend you have at least one credit card you can use in the U.S. in case you have trouble accessing your home account when you first arrive.
How do I get a mobile phone?
When you arrive in the U.S., you can purchase a pre-paid phone with refillable minutes. Please note that most large mobile service providers in the U.S. require one- or two-year contracts, but there are other options available. You should also ask around in your home country before leaving to see if you could bring an unlocked phone to the U.S. and simply purchase minutes.
What about when I'm not eating in the dining halls?
There are a few program-sponsored meals during orientation and graduation, and all field trip meals are included in the program cost. Depending on the dining plan you choose, you might decide to have quick breakfast foods in your dorm or "on the go." You can purchase a rice cooker for your dorm room, and you can talk to your roommate to decide if you'd like to share the cost of a small refrigerator to store perishable items.
You will be taken to Walmart and Lee's Market (small Asian grocery store) right after arrival to buy food and anything else you need. Your first shopping trip will be the day after you arrive.
What will my housing be like?
Most students will be housed in the Mizzou residence halls. You will choose your housing based on your preferences and what is available. This is the first time students in our programs will be living in campus housing, so most of your questions should be directed to MU Residential Life.
What are the health insurance requirements for the University of Missouri?
As of May 15, 2015, the U.S. Department of State minimum health insurance coverage requirements for J-1 visa holders and any J-2 dependents are as follows:
Medical benefits of at least $100,000 per accident or illness.
Repatriation of remains in the amount of $25,000.
Medical evacuation to the visa holder's home country in the amount of $50,000.
Deductible not to exceed $5,000 per accident or illness.
We recommend using insurance providers that allow for direct billing for medical facilities. Some international insurance companies cannot be direct billed because they do not have an American billing address, and students will often have to pay all costs upfront and be reimbursed later. Paying these costs out-of-pocket could be extremely expensive, with costs ranging from $100 to more than $10,000. Because of this, we recommend purchasing insurance from companies with an American affiliate or from one of these companies:
What is tipping culture in the U.S.?
While tipping is not mandatory in most of the United States, it is customary in many circumstances for service, especially at almost all sit-down restaurants that offer table service — many food servers depend on tips as an essential part of their wage. Generally, the average tip is 15%–20% of the total meal cost.
Tipping practices can vary depending on the location in the U.S., and even published guidance can vary greatly depending on the source. For example, some Americans don't tip at a buffet restaurant, but it's generally good form to tip $1–$2 per person for wait staff just clearing several rounds of plates, or as much as 10% if the wait staff is refilling drinks and providing other services. The general rule is to tip in proportion to the service, and the quality of the service being delivered.
Tip jars at carryout restaurants are a recent innovation, and one resisted by many Americans. While one guide advises to tip 10% at carryout restaurants, many American do not tip for carryout, even when a tip jar is present, and tipping at most fast food chains, such as McDonald's, is not common. Some who do contribute to tip jars put in change or only $1, depending on the size of the order.
Keep in mind that those who provide service are often dependent on tip income and generally are grateful for any tips receive, especially when prompt and exceptional service has been provided. Tipping is the means by which to acknowledge good service.
How safe is it to live in Columbia or travel in the U.S.?
Columbia is one of the safer towns in the U.S., and residents enjoy a high quality of life with a very low crime rate. However, it is a growing community, and it is now wise (here or anywhere) to walk around alone after dark or in areas without many other people. You should never get into a car with someone you don't know (aside from taxi or a similar driver service), and you should take care of your personal belongings when you are walking alone. In general, you will find locals very friendly and approachable, but you should always be aware of your surroundings when you are here or traveling anywhere unfamiliar.
Can I easily find hot water to drink?
Americans do not commonly drink hot water by itself — most drink coffee or hot tea — and it is difficult to find public water supplies with a heating element for fresh hot water. However, if you are at a restaurant or someone's home, simply inquire if you could have hot water to drink. Most homes have stovetop or electric kettles, and you may purchase these for use in your home as well.
Do Americans wear slippers inside?
Most Americans do not wear indoor slippers except in the wintertime. Many people wear shoes inside their homes, and workers who come to do service in your home (electrical, plumbing, cable or internet, etc.) will not take off their shoes before entering the home. If you feel more comfortable wear indoor slippers, you may take them with you when you go to other people's homes, and it is acceptable to ask guests to remove their shoes in your home.