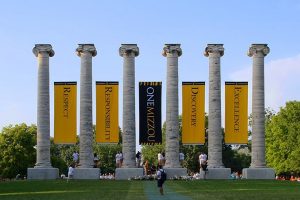 The University of Missouri in Columbia was established in 1839 and is the state's oldest and largest public institution. It is often referred to as a "Public Ivy" university, offering top-quality education at a reasonable cost. The Fiske Guide to Colleges listed MU among its "Best Buy" schools for 2018. The campus has more than 30,000 students (2,100 of whom are international) from throughout the U.S. and more than 100 countries. Undergraduate and graduate degrees are offered in more than 300 accredited academic programs, many of which are recognized worldwide for their academic excellence.
Campus maps
To see maps of the University of Missouri, go to the following pages. The Center for English Language Learning is located in McReynolds Hall.
Application to MU degree programs
Students who want to apply to both the Intensive English Program and an MU academic degree program must complete separate application forms. One of the requirements for admission to an academic degree program at MU is that a student must satisfy MU's English language requirements. Students must earn a minimum TOEFL score of 79 (IBT) or 6.5 (IELTS) for admission to most undergraduate programs. However, one advantage for students studying in the IEP is that meeting the program's exit criteria satisfies the MU English language requirements for admission to most undergraduate programs. Applicants to graduate programs must contact the individual departments to determine their requirements for admission.
Undergraduate and graduate degree programs at MU
International Admissions
For more information on how to apply for admission to a degree program at MU, see the International Admissions website.