2021 International Engagement Award recipients announced
Nov. 16, 2021
---
The MU International Engagement Awards recognize the outstanding work of faculty, staff and students to internationalize the University of Missouri. The following recipients were selected for 2021 by the Council on International Initiatives based on meaningful and sustained commitments to international work, whether directly on campus or brought back to the campus from an engagement abroad.
Outstanding faculty contribution
Michael Marlo
Dr. Michael Marlo is an associate professor in the MU English Department. He holds a Ph.D. in linguistics and his research and teaching focus on the phonology of African Bantu languages, as well as documenting understudied and endangered languages in western Kenya and eastern Uganda. Dr. Marlo has received grants from the National Science Foundation and National Endowment for the Humanities, allowing him and his research teams to create dictionaries, comprehensive grammatical analyses and collections of oral literature from the Luyia cluster of Bantu languages. According to his nomination, Dr. Marlo is "energetic, persistent and creative in promoting and helping to coordinate the international project of developing comprehensive data on a range of Bantu languages." He has also been an active participant in the Tri-Continental Partnership between the University of Missouri, Ghent University in Belgium and University of the Western Cape in South Africa.
Dr. Marlo is a dedicated mentor to undergraduate students at Mizzou and provides students with intensive and authentic exposure to international experience both on campus and abroad. According to his nomination, Dr. Marlo "has not only internationalized our curriculum by creating opportunities for students to work on African languages, he also successfully increases students' international experiences through impeccably and professionally preparing them for study and research abroad."
Outstanding staff contribution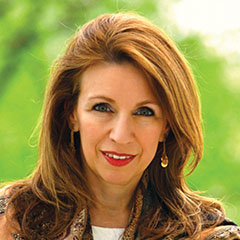 Gabrielle Malfatti
Dr. Gabrielle Malfatti is director of global engagement and an ancillary associate teaching professor in the MU College of Education and Human Development. She established the Mizzou Ed Teach Abroad program, which provides teaching field experiences for pre-service teachers in countries like India, South Africa, Malawi and Uganda. She also co-led the effort to establish the graduate certificate in global education and leadership in collaboration with the Educational Leadership and Policy Analysis K–12 faculty, the first U.S. degree program simultaneously recognized as an International Baccalaureate certificate in leadership practice. According to her nomination, "Her dedication to international education is contagious and her professionalism admirable… she has displayed her ability to not only be a visionary for the college but also a champion for her students."
Dr. Malfatti manages the college's agreements and strong connections with global partners, including universities around the world, K–12 schools in India, Be the Change Volunteers and International Baccalaureate. She serves as a member of many campus committees focusing on international and diversity issues, and has served on multiple dissertation committees for Mizzou students. Dr. Malfatti is a two-time Fulbright International Education Administrators award recipient and was honored with the Association of North America Higher Education International's Patrick J. Moreo Global Education Leadership Award in 2019. She is active in international education professional organizations, including NAFSA and the Forum on Education Abroad.