Asian Affairs Center partners with Ragtag Cinema for virtual film screening
March 25, 2021
---
The Asian Affairs Center will host a virtual film screening at 7:30 p.m. April 19 in partnership with Ragtag Cinema. The event will feature screenings of two short films, "Childhood in the House" and "Homeless," independently directed and produced by Mr. Zhu, Yuzhi.
Mr. Zhu has been a visiting scholar of the Asian Affairs Center at the University of Missouri since January 2020. He received art and film education in China and obtained his master's degree in film studies in 2011. Before focusing on making documentary films, Mr. Zhu has held various positions in art design, advertising, and teaching.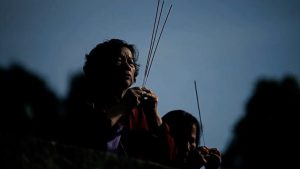 Mr. Zhu's films present crucial issues faced by Chinese society that are often not given sufficient attention. They received recognition by the Los Angeles Independent Shorts Awards in the summer of 2020. The Asian Affairs Center and Ragtag Cinema present these films to further enhance diversity and cross-cultural understanding in Columbia and Mid-Missouri.
Register in advance to receive a Zoom invitation to the event. For any questions, contact Gary Dou at doug@missouri.edu.