First Asian-American U.S. city mayor shares 'The Power of Possibility' with students
Oct. 15, 2019
---
By Isabella Paxton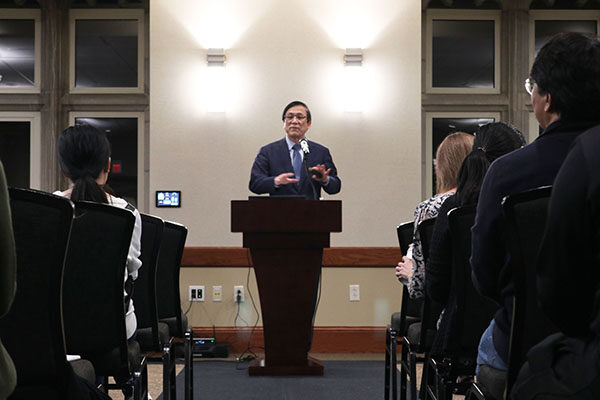 A mayor giving a speech is not out of the ordinary.
Sukhee Kang, the first Korean-American to serve as mayor of a major U.S. city, speaking at the University of Missouri is.
The Asian Affairs Center, along with the Truman School of Public Affairs, invited Kang to visit MU Wednesday, Oct. 9, to share his experience embracing the American dream as an Asian immigrant, giving an inspiring speech to MU students present.
Born and raised in South Korea, Kang — who served as mayor of Irvine, California, from 2008 to 2012 — moved to the United States in 1977 to seek his American dream. His route to the dream was rocky at first, as he wasn't able to get a job during the first six months.
He was tempted to fly back to his home country at the time of struggle, but he didn't. Instead, he kept vying for opportunities. His months of persistence finally paid off when he landed a job interview.
Kang recalled of how bold he was to the company's hiring manager during the interview.
"What I told him that really hit him hard was, 'I know you don't believe me now, but would you please give me a chance to prove that I can do it. You can fire me after 90 days. So give me a chance to work for the next three months and I'll show you what I can do,'" he said.
His courageous attitude rewarded him a job as a sales person. And six months after, he became the top salesman out of 200 employees.
His know-how of becoming the most valuable employee from being jobless in six months was simple and straight: work hard, be positive.
"I'm laughing but, you know, that was the toughest moment in my life," he said. "I was in the crossroads of if I would go back or stay here and try to do my best. So, doing the best is always the answer to success."
After Kang had established himself in the U.S., he decided to run for a seat on the Irvine City Council in 2004. The election campaign required him to raise his own money and knock on 10,000 doors. Instead, Kang raised almost twice as much funds as he thought he would need and knocked on 20,000 doors.
Kang believed that if a person found their purpose and stayed positive, everything else would fall into its own place and they would reach their full potential.
"Everybody has a different potential," Kang said. "It's just some people find it sooner, some people find it later and some people never find it, and go away. So we need to find your potential that fits you so that you can do your best as early as possible. That is the secret to success and if you do that your future will be very bright."