New program helps Chinese scholars prepare for better careers
Aug. 12, 2019
---
By Sean Na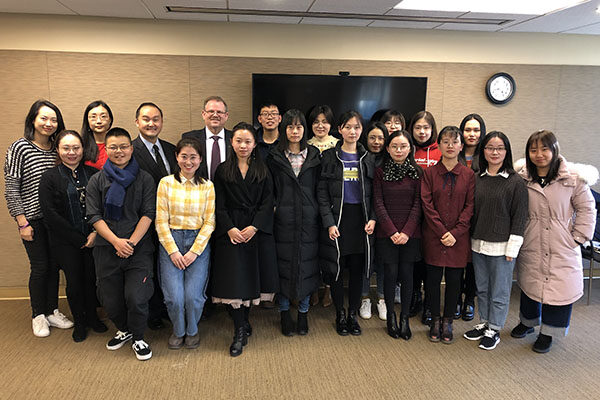 Last year, Jiawei Zhu was browsing for an opportunity to learn better teaching and research methods. But his school didn't offer resources that met his needs. Zhu, a graduate student from Shanghai Normal University, then learned about a new Global Leadership Program offered at the University of Missouri Asian Affairs Center that would help him reach his goals.
He said he loved how the program would train him to be both a student-centered teacher and an efficient communicator in English.
Zhu was one of the 15 graduate students from Shanghai whom the MU Asian Affairs Center invited for its very first, three-month long leadership program from March to May 2019.
The program offered students:
Seminars on teaching pedagogy that provided lessons on student-centered lesson planning and method;
Seminars on academic writing that provided lessons on concise writing in English;
Opportunities to audit MU classes related to their major field of studies;
Opportunities to connect with MU students and professors for global friendship and networking;
Five local field trips to get hands-on experience of American culture.
For Zhu, who had been longing to find ways to craft both his English skills and future career as teacher, it was almost a personalized program for him.
"I am planning to be a high school history teacher," he said. "So [the] teaching pedagogy [class] helps me a lot."
Frances Reynolds, a teaching pedagogy instructor who taught English and literature in high school for decades, said anyone interested in education, communications and journalism would benefit from the program.
She said the 15 students grew so much on both professional and personal levels.
"Whether they would become teachers or not, they have learned a lot of life skills and taken personal assessment on personality, learning and communications styles," Reynolds said.
Yinan Chen, another program participant from Shanghai, said the program encouraged her to speculate about what she really wanted to do after graduation. She said before she came to Missouri, she had always been told what to do and what not to do by her teachers and parents.
"In China, classrooms tend to be teacher-centered, and our parents and teachers often not let us to explore ourselves," she said.
But in Missouri, with the help of teachers and staff of the Asian Affairs Center, she and her classmates were able to "know about ourselves, our potential and our limitations," Chen said.
The Asian Affairs Center has been in an educational partnership with Shanghai Normal University since 2011. Since then, groups of Shanghai students have visited MU every summer for two-week long programs.
But the two-week programs couldn't provide an immersive English environment to students — something the new, three-month program was able to do, said Curl Xuanyuan, who coordinated the new Global Leadership program in spring 2019.
"They (students from Shanghai Normal University) live and study as American students with critical thinking, creative teaching methods, which are totally different from what they've learned as Chinese college students," Xuanyuan said. "The program not only allows students to practice English and improve their academic level, but also helps them to focus on themselves and build a long-term life goals."