Three IEP students win MIDTESOL essay contest prizes
Oct. 5, 2017
---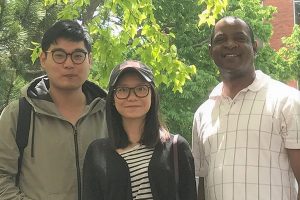 Three of our very own IEP students were recently awarded top honors through the MIDTESOL student essay contest — adult ESL category. MIDTESOL is the local professional organization for teachers of English as a second language. At the 2017 conference held in September in Kansas City, Missouri, awards were given out for outstanding writing by ESL students in the Midwest region. The first place prize when to Richard Yampanya for his essay "My Connection to a New Culture." Second place went to Huilin Mao and third place went to Di Zu. All students were in Mary Browning's level 5 class. Congratulations to all the winners! The first place essay is posted below.
My Connection to a New Culture
by Richard Yampanya
The global economy has led people from different countries to move constantly for diverse reasons, such as wars, new job opportunities, and education. These immigrations create more diversity in diverse places and help people to discover and learn new cultures because each immigrant represents a culture that he may demonstrate or express in his daily life. It is amazing to imagine how many different cultures interact every day in cities like New York, Los Angeles, Chicago, and others around the world where each group of people has its own way to live, think, react, and eat. The interaction between people from different cultures usually drives to many misunderstandings and confusions that can create a frustration or a conflict before getting a good cohabitation.
My own immigration illustrates some misunderstandings that I experienced when I came in the USA in 2010. I moved in this country full of cultures from different regions in the Democratic Republic of Congo, where there are two hundred fifty-five diverse groups of people with different dialects for each group. I speak five different languages: French, Lingala, Swahili, Tshiluba, and Kikongo. Therefore, I landed in Washington DC with five cultures, and I should interact with a new culture or with American culture. For instance, my first supervisor was a young lady around twenty-two year-old, and I was frustrated at my second day by the way she called me with her finger. I said to myself, "Richard, you are a dog and a slave now". Even if I was forty year old, I was in need of a job; so I responded and went to her office, but I was crying in side. She was a young white lady, and for me it was discrimination. I felt humiliated. In my culture, it is prohibited for young people to call an older using a finger; it is not respectful. In Congo, an employee can lose his job only for having called the boss or the supervisor by the finger. I was already in the USA, in another world. I continued my work, and two weeks later I saw one of my co-workers called the same way by the supervisor. When he came back, I took time observing him to make sure if he was comfortable in his mind, and I asked him if he was doing well. I think he has never understood the reason of my concern. Finally, it was at the church where I got peace and answer about this misunderstanding after seeing one child calling her mother by the same way and after sharing this issue with my Pastor. And then I got a chance to share this experience with my supervisor the day of my qualification when she asked me if I had any questions before signing some documents. Since this problem, I understood that there are some signs and behaviors that people keep even if they don't have any meaning.
Another confusion and misunderstanding I have experienced was when I went to visit one American friend. At the end of my visit, this friend said only "Bye" at his door without accompanying me out of a building. For me it was the sign that my friend did not appreciate my visit and I was not welcome for next time. I was confused and really humiliated. I said to myself, "Why should I consider him as a friend if he doesn't like me?" Two days later when he came to my place, I asked him why he did not accompany me, and he told me American people don't do that. But in my culture a guest has to be accompanied outside of a building in order to make sure that he is leaving safe.
"Different people, different cultures" as we know and say when we discover the way other groups of people live or eat. During my integration in the USA, I discover every day many differences between American and Congolese cultures. The interaction and integration lead me to lose some behaviors or gestures from my culture and to gain new behaviors from American culture in order to create the balance for a good life in my new home country.