Milestone graduation on Giving Tuesday
Dec. 17, 2020
---
On Tuesday, Dec. 1, graduating members of the Global Leadership Program convened to celebrate their successful completion of the extensive professional training program. Their ceremony continued the Asian Affairs Center's innovative "drive-through graduation" format founded in the spring as a solution to ensure safety amidst the pandemic, while still celebrating the group's achievements.
The ceremony included another more longstanding center tradition: Members of the Korean scholar group KOVIS marked their 15th consecutive year donating contributions to the Columbia Public School District and Daniel Boone Regional Library. This year's contribution was especially notable for its support of the library's launch of their new free, live, online tutoring service, Brainfuse.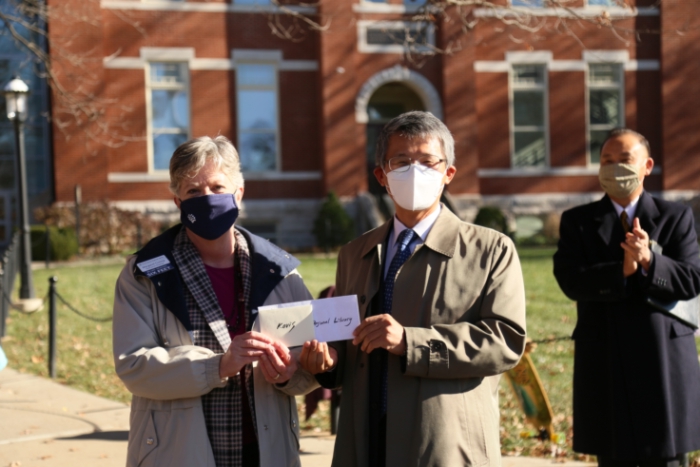 Through their annual gift of $1,000 to each institution, KOVIS has cumulatively contributed $30,000 to the local educational community, a fitting milestone to celebrate on Giving Tuesday. Shelly Fair and Margaret Conroy were present to give remarks and receive the donations on behalf of CPS and Daniel Boone, respectively. Both organizations commented that the Korean visiting scholars and their families contribute more than money — they contribute priceless intercultural connections through their friendship and community involvement.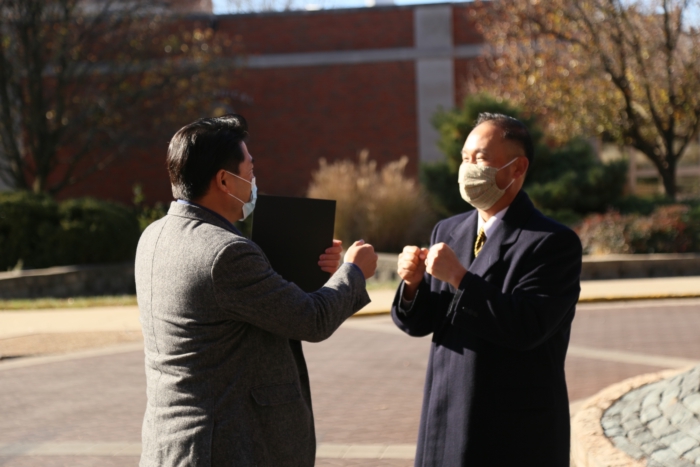 The spirit of giving brought to mind other milestones worthy of celebration. An internal 2018 analysis estimated the local economic contribution of each GLP scholar and their family at approximately $80,000 for each year of their participation. With more than 70 families typically joining the program, this makes for an annual total injection of about $5.6 million into the local economy. Projecting this over the center's 18 year history, staff members noted that the program may have passed the milestone of $100 million in total economic exchange this year.
As an academic and professional training center, the Asian Affairs Center also holds the facilitation of cultural and economic exchange between the state of Missouri and East Asia as one of its core missions. On Giving Tuesday, the center enjoyed this chance to reflect on their cumulative progress towards this mission even as they celebrated and said their farewells to another impressive class of GLP graduates.