Sponsored Student Newsletter: Spring 2021
June 8, 2021
---
Greetings from the MU Sponsored Student Program!
Despite the many changes at Mizzou over the past year, one thing has remained the same: our commitment to supporting one another. In response to the pandemic, students, faculty and volunteers worked together to produce testing swabs, cloth masks, face shields, hand sanitizer and drive-thru testing. Meanwhile, International Student and Scholar Services welcomed international students to campus with contactless meal delivery. Throughout the regular semester, ISSS hosted webinars on regulatory updates as well as Tuesday Talks, a series of online seminars dedicated to reducing stress and isolation during the pandemic. We hope that these changes supported student well-being while protecting health and safety.
For campus operations for the summer and fall, please see  Show Me Renewal: Campus Updates. In the meantime, thank you for your continued support of the Sponsored Student Program at MU!
Announcements
Sponsored students at MU
Spotlight: Eduardo Torres Domínguez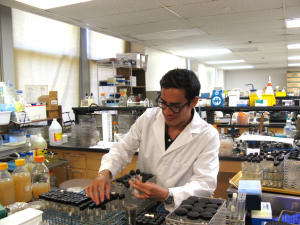 Shout out to Eduardo Torres Domínguez (Laspau), a Ph.D. graduate from Mizzou whose study, "Design and characterization of mechanically stable, nanoporous TiO2 thin film antimicrobial coatings for food contact surfaces," was published in Materials Chemistry and Physics. The study, which was funded by the Fulbright Program and the Comisión México-Estados Unidos para el Intercambio Educativo y Cultural (COMEXUS), suggests that a coating made from titanium dioxide may be effective at preventing and eliminating foodborne germs such as salmonella and E. coli. Co-authors include Phong Nguyen at MU, Annika Hylend at St. Louis University, Dr. Matthew R. Maschmann (MU College of Engineering), Dr. Azlin Mustapha (MU CAFNR) and Dr. Heather K. Hunt (MU College of Engineering).
To read more about the investigation, see Show Me Mizzou: Avoiding food contamination with a durable coating for hard surfaces.
Congratulations to:
José Luis Adriano Sánchez (IIE Fulbright), selected for the summer 2021 RJI fellowship program.
Javkhlan Bold-Erdene (IIE Fulbright), honorable mention for Best Information Graphic category in the Missouri Press Association's 2020 Better Newspaper Contest.
Shahad Bukhary (SACM), elected as president of the Saudi Students Association for fall 2020.
Aiman Javad (IIE Fulbright), 2021 Don Romero Prize.
Pawena Narasri (Ramathibodi School of Nursing, Mahidol University) and Natsayakarn "Gift" Narkthong (Ministry of Science and Technology of Thailand, MSTT), selected for a P.E.O. International Peace Scholarship for the 2021/22 academic year.
Mónica Pérez Eró (IIE Fulbright), Jhon Kelly Bonilla Aranzales (Laspau Fulbright) and Mohammad Jaweed Nazary (IIE Fulbright), elected to the University of Missouri Fulbright Organization executive board for fall 2020.
Yanu Prasetyo (RISET-Pro alumnus), 2020 International Engagement Award.
Imad Eddine Toubal (AMIDEAST Fulbright alumnus), with fellow MU students Caleb Heinzmann, Ashlyn O'Hara and Kolton Speer, whose web-based tool Deeptector.io won the 2019/20 Missouri School of Journalism's Donald W. Reynolds Journalism Institute student innovation competition.
Karina Zaiets (IIE Fulbright), second place for Best Feature Story category in the Missouri Press Association's 2020 Better Newspaper Contest.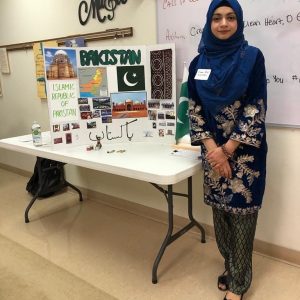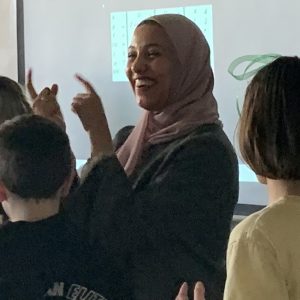 Thank you to:
Our Kaleidoscope volunteers:
Zahra Al Saeed (SACM)
Sohaila Bakr (IIE STEP)
Kiran Bibi (Global UGRAD IREX)
Mónica Pérez Eró (IIE Fulbright)
Mahnoor Rizwan (Global UGRAD IREX)
Prior to the pandemic, these students volunteered with Kaleidoscope to expand the horizons of local elementary and secondary school students. We are grateful for your contributions to the community!
And thank you to Irina Matchavariani (IIE Fulbright), whose article "Easy access to COVID-19 vaccine prompts mixed feelings in internationals" made the front page of the Missourian. Thank you for elevating the voices of the international community at Mizzou!
Looking back: Spring 2020 international student welcome
Are we missing something? Tell us about your service and accomplishments!
Alumni connection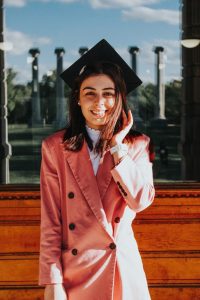 Diana Fidarova, an IIE Fulbright alumna and School of Journalism graduate, chats about her experience at MU.
What have you been up to since graduation?
"After graduation last year I had been planning to get home — to Russia — almost right away. But the worldwide COVID situation had altered my plans significantly. I was not able to get on a flight home, so I signed up for a post-academic training with KOMU-TV, an NBC affiliate and the university-owned TV station. The training took a little bit more than a month, but I have mastered my skills even more with the extensive workload. When I had an opportunity, I left the United States and settled back in my hometown in Russia where I got to spend some time with my family (whom I hadn't seen for two years) and to look for a job. There is a job offer coming from an international TV station based in Czech Republic I am looking forward to. Since, again, we live in the time of the pandemic, the paperwork takes forever, so I do not know when I am able to move to Prague."
What do you miss the most about Mizzou?
"I miss the people the most. When the classes switched to online, it felt like something I could live with. But then, it was hard not to see anyone you got used to so much. I mean our Fulbright community at Mizzou, my J-School classmates and professors."
How has Mizzou shaped your future?
"Mizzou showed me that I am a professional in my field. I am able to do my work fast, quick and perfect. This experience opened my mind to other people's backgrounds, histories and experiences. It was the most fulfilling time for me as a person and as a journalist. I will cherish the time spent in Columbia forever."
What words of wisdom do you have to share with continuing students?
"It is going to be hard, but you can do this. You are not the first and not the only international student going through difficulties while studying and adjusting to the university. There is a huge community open to help you in any way you might wish. Do not be afraid to ask for help. It will make your life easier."
Meet the team