David Currey to retire as director of International Student and Scholar Services
June 8, 2023
---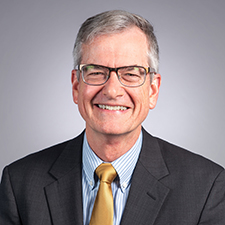 After 30 years in the field of higher education — including 22 at Mizzou! — David Currey will retire as director of International Student and Scholar Services on Friday, June 30. Kristen Colbrecht, assistant director of international student and scholar services, will serve as interim director.
Currey joined MU International Programs in June 2001 after working in international education at the University and Arizona and Middle Tennessee State University. Prior to earning his master's degree from Southern Illinois University at Carbondale, he also served for eight years as a flight engineer with the U.S. Navy.
He has led the ISSS team through numerous world crisis events during his career, including the attacks on 9/11, the COVID-19 pandemic and the more recent crises in Afghanistan and Ukraine. Currey says he learned early on the importance of connecting with students to offer practical support and hope during difficult situations.
Currey has held several leadership positions in NAFSA: Association of International Educators, and has participated in the Fulbright International Education Administrator Program in South Korea and the State Department-funded Reconned Plus Indonesia program. He has traveled the world on behalf of Mizzou to recruit international sponsored students, meet with alumni and institutional partners, and visit U.S. official at embassies and consulates.
"I have enjoyed the honor and privilege of working with some of the most compassionate and talented people on the planet, on one of the most beautiful college campuses in the world, getting to know and enjoy people from every corner of the globe," Currey said. "It's been an amazing adventure and I'm very grateful and humbled to have had this opportunity."